Main Content
Sail Realty, Inc.
Luxury Properties in Marina del Rey & Venice Beach
Sail Realty, Inc.
Since 1969, Sail Realty has been a family-owned and operated business providing friendly and professional services to clients throughout Marina del Rey and the surrounding areas. A real estate agent from our office can help you buy or sell a property, and we'll work on your behalf with an attention to detail. Our family has developed over fifty properties over the past 50 years. William Doyle, the founder, began his career here in 1959 and Sail Realty was incorporated in 1969. Sail Realty has over 3 generations of family working for the company and your interests. Venice/Marina del Rey is a complex area and we are uniquely qualified to research and verify the ability for you to grasp the entire spectrum involved in a purchase and/or development of your real estate acquisition. The family lives and works in the area and brings decades of experience to the transaction. We're an ideal choice when you're interested in:
A seasoned & knowledgeable real estate agent Buying and selling property
Apartment rentals
Property development
MLS listings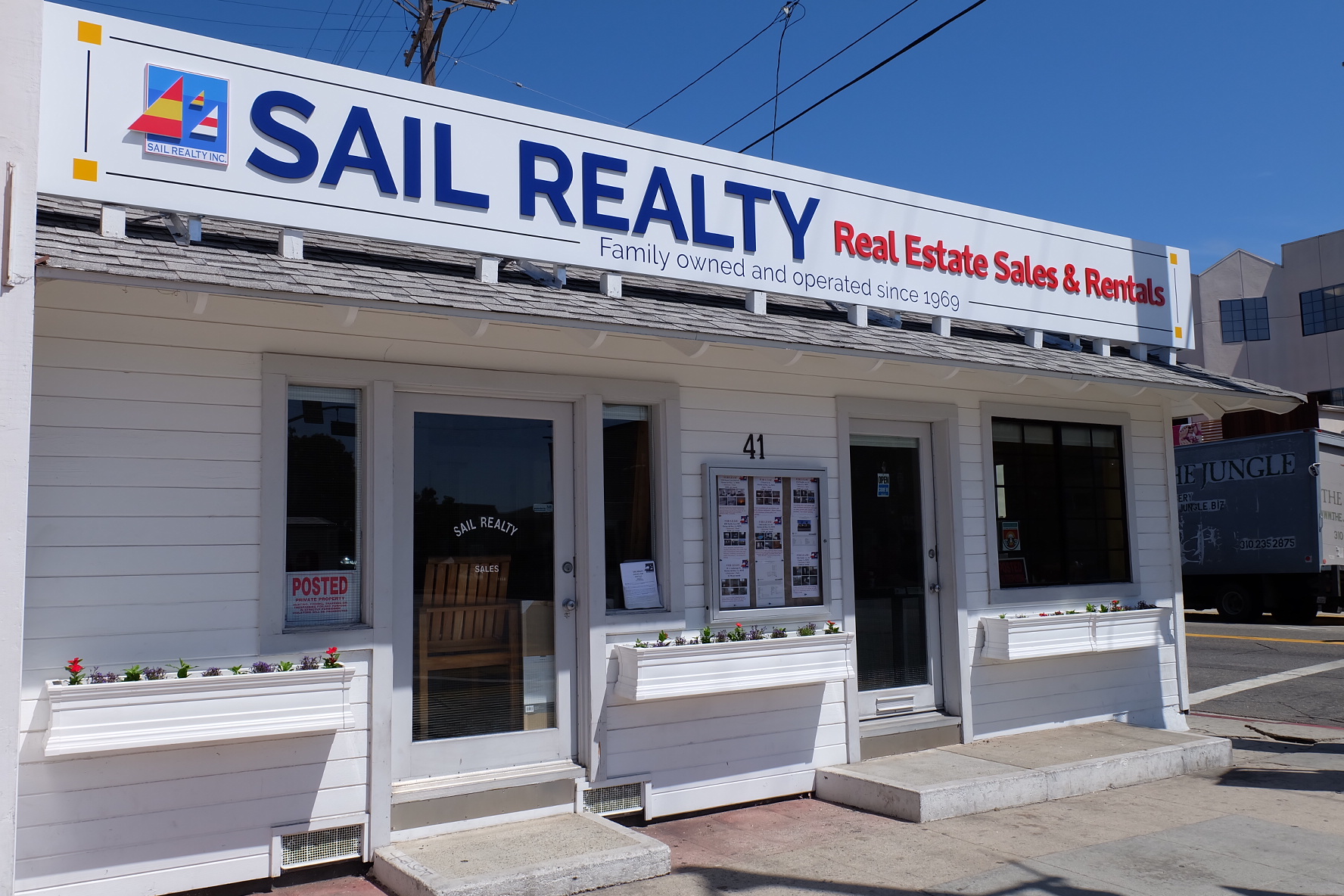 What Our Clients Say
"In 1998 we started looking at property with Kelly and Tim. After only 2 weeks of knowing them, a wave crashed through our living room window! My wife was sitting in the living room at the time and ran out of the room, only to cut her feet from the broken glass while she also had glass in her scalp. An ambulance took her to the hospital. I got a call and rushed there. I called Kelly and Tim to tell them what happened and that I could not meet them that day. So Kelly and Tim drove out to our Malibu beach house, an hour from their office, and cleaned up the big mess and boarded up the broken window. They did all this without being asked! We will never forget this! The multiple properties that we bought and sold with them over the years were all great experiences. We bought and sold a beach front duplex in Marina del Rey with Kelly and Tim, We bought and sold a beach front duplex in Venice Beach with Kelly and Tim, We bought an office building in Malibu with Kelly and Tim. We bought and sold property in Ramirez Canyon (Malibu) with Kelly and Tim. We always rely on them to represent us in real estate. They are the best at what they do!ThanksDenny and Sally Moore"
"Sail Realty understands the Marina del Rey and Venice real estate market better than anyone They have great integrity and knowledge and have been in this unique market since the 1960's. Venice was wild and unpredictable then because of it's colorful residents and now it's wild because of surging tech buyers driving the market up and intrusive government agencies making it harder to buy a home and remodel it to make it your own. Sail Realty knows the area. They looks our for their clients. They take a long term view on real estate and have made me a happy homeowner and a successful investor in the Venice and Marina del Rey area!"
"Kelly and Bill of Sail Realty commissioned me to design two custom homes in the Venice Beach area. As seasoned professionals in the custom home market, their knowledge and insight was invaluable. Their easy-going nature made it an enjoyable process. The final project was outstanding due in large part to the quality of materials, workmanship and their great attention to detail."
"Looking for an apartment to rent in Marina Del Rey, Venice Beach or West L.A.? A place to buy? Or, perhaps you have a property to sell? If your answer is yes to any of these questions, then look no further. You have found a great agency to help you out – Sail Realty. They are experienced, knowledgeable and will go the extra mile to meet your needs. Our first contact with Sail Realty was in 1971 when we bought a four-plex. Since then, Sail Realty has represented us in the purchase and sale of several other rental properties in the Marina Del Rey/Venice areas. Whenever we have a vacancy, Sail Realty finds great tenants for us too. They handle the contracts and get new residents settled without delay. Today, Sail Realty professionals are our consistent advisors on real estate values, trends and current conditions. The Doyle family, owners and operators of Sail Realty, have lived and worked in the area for years. They know Marina del Rey and Venice better than any other real estate company in the area. Regardless of your needs – buying, selling, or renting – the Sail Realty professionals will help you every step of the way."
"My wife and I wandered into Sail Realty almost twenty years ago and since then they have been our gurus as we've bought, leased, remodeled, and managed Venice properties. They treat us like family and are always spot on with advice and expertise. Many other real estate offices have come and gone in the years that Sail has operated. We have and will always stick with Sail!"
"We can't thank Kacey enough for helping find us a Summer Beach Rental. The location was perfect allowing us to surf, ride bikes and walk to local restaurants. It was a summer the family will never forget and we are already planning for next summer. The work Kacey put in made the entire process simple and enjoyable - her local knowledge really paid off for us."
"I have employed Tim Doyle and Kelly Doyle for over thirty years for the rental of my property in Marina del Rey Penninsula. They have always found wonderful tenants and provided excellent real estate investment advice. They proved the theory that big isn't always better. Jerry Pennington"
Latest News
June 7, 2023
A $13.9 Million Home In One Of California's Most Exclusive Island Neighborhoods
June 6, 2023
A Grand San Diego Victorian Looks Dapper After 134 Years
June 6, 2023
Is The Residential Rent "Correction" Already Over?
June 6, 2023
The Future Of Real Estate: Fintech 50 2023
June 4, 2023
A $16 Million Ticket To Big Ocean Views In Coastal California